Everedge Classic Lawn Edging - L5m x H7.5cm
Product Code: LS7336D
Description
Keep your lawn, driveway, pathways, flower or vegetable beds neatly edged with this Classic Lawn Edging.

Manufactured from galvanised steel with a heavy plastic coating, this edging will not rust and is guaranteed for 10-15 years.

Containing five x 1 metre long pieces with six spikes per piece to give you plenty of options as to where you feel it will enhance your garden best. It can be overlapped or cut but you are advised to touch up the ends with hammerite.Being made of steel, the edging is strong yet also thin enough to easily bend into shape.

Available in a brown or slate finish, this looks great straight or curved in any style of garden, ranging from sleek town gardens to quaint country gardens.

Dimensions: 1000 x 1.6 x 75mm high
Height of spikes: 9.5cm
Quantity: 5 pieces

Please note that although each piece is 1 metre in length the length is slightly reduced when the pieces overlap to lock.

This Classic Lawn Edging is available in brown or slate colour, please choose below;
How To Install Your Everedge Lawn Edging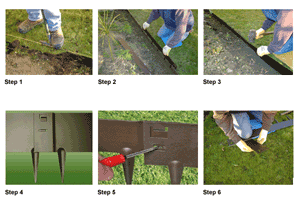 Step 1: Form a new edge or re-cut the existing edge deeper - effectively make a trench for the Everedge.
Step 2: Place Everedge in position; moving the spikes from side to side in the soils helps to seat it well.Ensure the Everedge logo is facing the front and that the new piece being installed has the male section locking into the female.
Step 3: Using a rubber mallet or hammer on a block of wood, drive the Everedge into the ground untill the edge is flush with the turf level.
Step 4: Interlock the overlap
Step 5: When all your edging is installed, press in the tongue using a screwdriver. Only push to about 45 degrees
Step 6: Using either another piece of Everedge edging, or a length of timber, Everedge can be bent to the required angle before installing.
Please see extra images for a larger version of the step-by-step images.
Customer note: All the different heights of Everedge Lawn Edging are compatible. The join is always the same height from the top edge so the tops of all sizes will remain flush when put together
Please click here for more ideas from our Lawn Edging Department.
Customer Ratings & Reviews
Great product and service posted on 16/08/2016 by Mr Mrs Lovell
Product Reviewed: L5m x H7.5cm
We thought this lawn edging was somewhat expensive, but as we only wanted to do the job once, we decided to buy this edging. The product is sturdy, easy to fit (the video was really helpful) and arrived 2 days before it was due. Very pleased - now we just need the newly seeded lawn to grow!
Excellent quality posted on 06/08/2016 by Claire
Product Reviewed: L5m x H10cm
Very sturdy and of good quality. Easy to use and looks good underneath my ranch style fencing, keeping my decorative stones/gravel from escaping into my neighbours property!
Great product posted on 28/07/2016 by Jono
Product Reviewed: L5m x H12.5cm
Very sturdy quality item, easy to bend into virtually any position. Just follow the instructions that come with it and you can't go far wrong. Just make sure you have an area that you can use to support each length if you need to bend it to any significant angle. Great item well recommended ++++
Very Smart posted on 24/07/2016 by ukkath_dz334yk
Product Reviewed: L5m x H7.5cm
Although it seemed a little expensive the lawn edging has given a very smart, permanent solution and will not deteriorate as some cheaper versions are likely to do. Very pleased with the finished project.
great value posted on 15/07/2016 by tg1257
Product Reviewed: L5m x H7.5cm
does exactly what it says on the add very pleased
Easy to install and very effective posted on 06/07/2016 by Robert
Product Reviewed: L5m x H7.5cm
Saw this advertised in the paper then became aware of Greenfingers website. Greenfingers delivered on time and the product was in excellent condition. Initially purchased two packs and installed it myself without difficulty, having first looked at the video. Realised I needed more so ordered another pack which again promptly arrived. I am very pleased with both the product and the service from Greenfingers.
great value'. posted on 29/06/2016 by nigel g
Product Reviewed: L5m x H10cm
great value fast delivery great product
No complaints posted on 26/06/2016 by Rearsby1972
Product Reviewed: L5m x H7.5cm
very pleased
looks fabulous posted on 22/06/2016 by Marco London
Product Reviewed: L5m x H7.5cm
very nice product. Easy to install and it looks great.
Great product posted on 20/06/2016 by Alan Pengilley
Product Reviewed: L5m x H7.5cm
We had ordered this product once before and we were very happy with it. This is why we ordered again, and again were very pleased with it. It is very strong, fairly easy to fit together and does the job well. We used it to edge the tarmac drive.