Everedge Classic Lawn Edging - L5m x H7.5cm
Product Code: LS7336D Delivery Options Standard Delivery £4.99
This item can be shipped using our standard £4.99 courier delivery option.
We will only charge you for the single heaviest item in your basket. The delivery cost will be calculated and clearly shown during the checkout process once the delivery address is known.
For further details and regional exceptions see our Delivery Service Details.
Description
Keep your lawn, driveway, pathways, flower or vegetable beds neatly edged with this Classic Lawn Edging.

Manufactured from galvanised steel with a heavy plastic coating, this edging will not rust and is guaranteed for 10-15 years.

Containing five x 1 metre long pieces with six spikes per piece to give you plenty of options as to where you feel it will enhance your garden best. It can be overlapped or cut but you are advised to touch up the ends with hammerite.Being made of steel, the edging is strong yet also thin enough to easily bend into shape.

Available in a brown or slate finish, this looks great straight or curved in any style of garden, ranging from sleek town gardens to quaint country gardens.

Dimensions: 1000 x 1.6 x 75mm high
Height of spikes: 9.5cm
Quantity: 5 pieces

Please note that although each piece is 1 metre in length the length is slightly reduced when the pieces overlap to lock.

This Classic Lawn Edging is available in brown or slate colour, please choose below;
How To Install Your Everedge Lawn Edging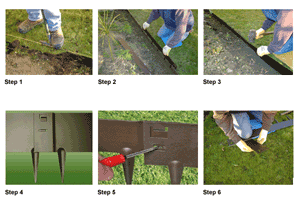 Step 1: Form a new edge or re-cut the existing edge deeper - effectively make a trench for the Everedge.
Step 2: Place Everedge in position; moving the spikes from side to side in the soils helps to seat it well.Ensure the Everedge logo is facing the front and that the new piece being installed has the male section locking into the female.
Step 3: Using a rubber mallet or hammer on a block of wood, drive the Everedge into the ground untill the edge is flush with the turf level.
Step 4: Interlock the overlap
Step 5: When all your edging is installed, press in the tongue using a screwdriver. Only push to about 45 degrees
Step 6: Using either another piece of Everedge edging, or a length of timber, Everedge can be bent to the required angle before installing.
Please see extra images for a larger version of the step-by-step images.
Please click here for more ideas from our Lawn Edging Department.
Customer Ratings & Reviews
Great Product posted on 29/04/2015 by Colin
Bought 5M in 75mm brown finish of this as a trial to control my unkempt lawn edge. I found it to be easy to install, looks very professional and is provides the reduced maintenance we require. I am going to buy another 30M to continue.
excellent product posted on 23/04/2015 by jasintahooper
this edging is the best. Tryed others but nothing to beat this.
Good product posted on 23/04/2015 by ROD E
Good solid product - much better than log rolls!
Great Idea posted on 17/04/2015 by belindahay
We have used wood to edge our garden and are fed up with keep renewing the wood when it goes rotten. I found the everedge when was looking for alternatives. It is brilliant does exactly a I needed, bends round easily whether its a 90 degree or slight curve. It is quite expensive but worth it.
Looks great posted on 11/04/2015 by natashapyke
Looks great and once you get the hang of it it's easy to fit. Will be buying more for the remainder of my garden.
Exellent value and so easy to fit posted on 07/04/2015 by trevorgroom
My garden has been enhanced by this product.
Just what the posted on 25/03/2015 by johnctaylor
A great product, easy to assemble and put in place.
very easy to use
posted on 04/03/2015 by
When I ordered this I was a little worried about how flexible it would be I was concerned it may not bend easily However it was very easy to useI wanted it to edge an area of gravel under a tree I made a complete circle with it very easily it is flexible enough to make a smooth curve without having to use any tools just by flexing it with my hands Overall very pleased with it although I havent yet added the gravel
As good as I hoped posted on 20/11/2014 by anthonynedwards
Easy to use unobtrusive product which provides a perfect edge between the lawn and border
Excellent product posted on 06/11/2014 by John Ball
Bought these lawn edgings to separate some areas of the garden I had planned These seemed like a good option and for a reasonable price The quality is excellent and they fit together very easily so even a complete novice could make use of them The end result was a clean edge where I wanted it and it looks amazing when fitted I would recommend these to anyone who wanted a sturdy border that was very simple to install and will last forever Thanks Greenfingers for a great product
Linked Promotions