 Rowlinson Garden Sheds



From £154.99

Mercia Garden Sheds



From £149.99

Greenfingers Wooden Wall Store 6.5 x 5 ft


Only £249.99 Brundles Brighton Garden Small Apex Shed - 2 x 7ft


Now £239.99

Wooden Apex Tool Shed
3 x 6ft


Now £144.99

Greenfingers Pent Storage Cabinet 4 x 5ft


Now £119.99 Greenfingers Fir Storage Bench - 3.5 x 1.5ft


Only £79.99

Norfolk Leisure Iceni Waterproof Storage Bench - 4.5 x 3ft


Now £135.99

Suncast Patio Resin Storage Bench - 4 x 3ft


Only £114.95 Rowlinson FSC Large Log Store



Now £134.99

Zest 4 Leisure FSC Log Chest



Now £149.99

Forest Garden FSC Larchlap Large Woodstore - 6 x 4ft


Now £154.99
Garden Product Reviews
Could be a benefit but be very careful where you site it
posted on 06/02/2016
It is quite easy to assemble but PLEASE check which way round the back of the unit is before you start as the Instructio...
pretty but very small.
posted on 10/02/2016
I wanted another sheltered feeder for my dried mealworms out of this relentless rain and sleet. I expected this one to ...
posted on 10/02/2016
...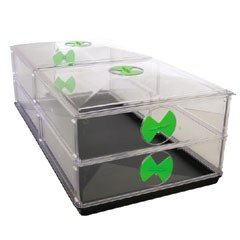 Our Price: £159.99
A great propagator
posted on 11/02/2016
I am very pleased with the Vitopod propagator. It was easy to assemble and to set the thermostat. It is large and takes ...